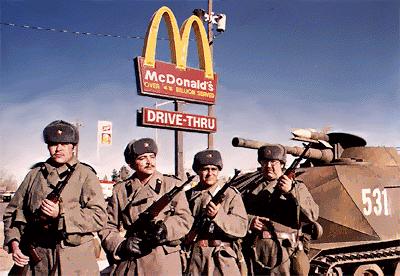 Surely the timing was a coincidence.* Nevertheless, I thought it an amusing one.
Harry E. Sloan, the Chairman and CEO of MGM,
donated
$38,500 to John McCain's campaign to win the Republican nomination in the primaries.
In May 2008 this heavyweight McCain campaign donor stood before an audience at Cannes and
announced
that his studio would produce a remake of
Red Dawn --
the celebrated 1984 Cold War classic about an invasion of the United States by the armed forces of Russia and Cuba.
Scarcely three months later, McCain's good friend, Georgian president Mikheil Saakashvili started a war with Russia. It was not long before John McCain had goaded the White House, the US news media -- and even Obama -- to match the bellicosity of his anti-Russian rhetoric.
If there is a lesson in all this, it is to be wary of remakes -- and those who produce them.
___
*
USDOF
claims the timing was no coincidence.